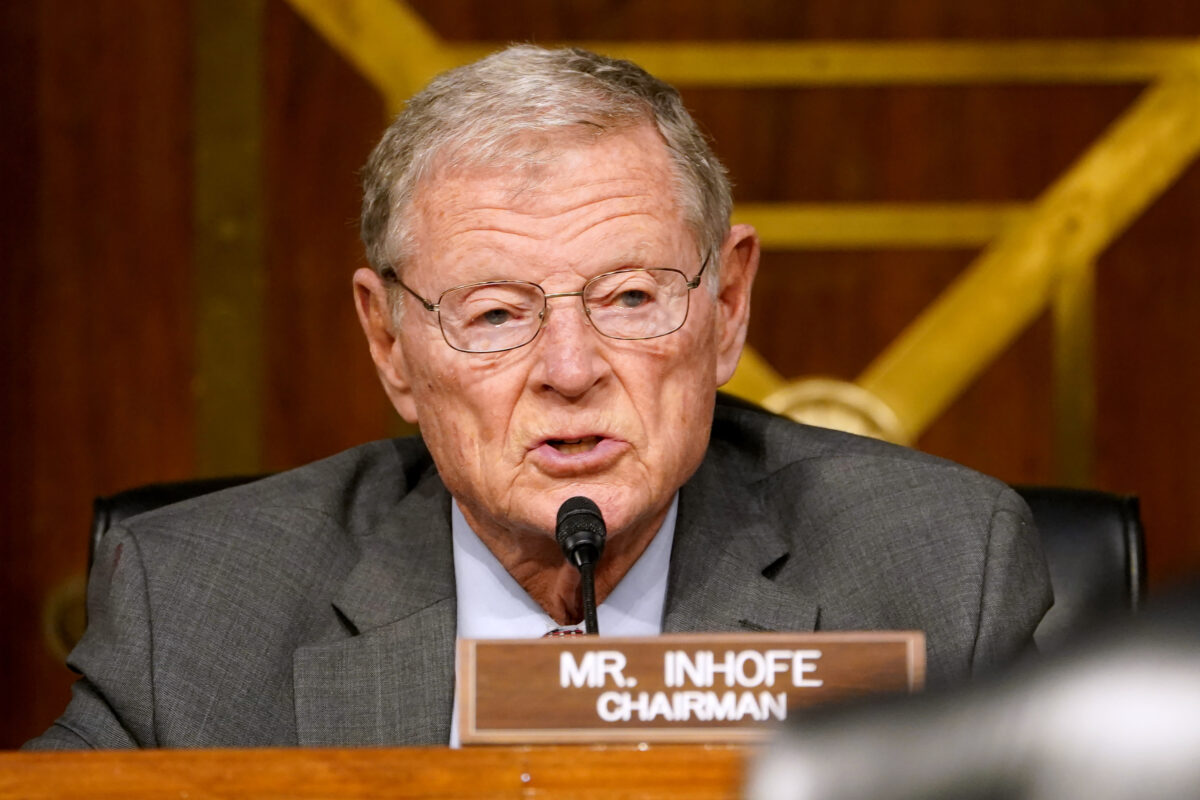 A top GOP senator on the Armed Forces Committee said that members of the U.S. military should speak out about the spread of Marxism, coming in response to reports of a Space Force commander being relieved of his post earlier this month.
Sen. Jim Inhofe (R-Okla.), the ranking member on the Senate panel, said he is concerned after Lt. Col. Matthew Lohmeier was relieved by the Space Force. Lohmeier had self-published a book that went into details about the spread of Marxism and the quasi-Marxist Critical Race Theory being utilized in training in the military. Lohmeier told a podcast that is worried that Department of Defense Secretary Lloyd Austin is pushing an agenda "rooted in critical race theory" that promotes "diversity, inclusion, and equity," which that "will divide us."
"Based on the information the committee has received so far and what's been reported in the press, I am concerned. Members of our military should not only be able to speak out against Marxism, but they should be encouraged to do so—as long as they follow the rules and laws already in place," Inhofe said in a statement over the past weekend.
He added that Marxism "goes against everything this country stands for, and it belongs, as Ronald Reagan said famously, 'on the ash-heap of history,'" according to the statement.
Critical Race Theory, which is derived from critical theory—a Marxist approach to social philosophy—claims that the United States is a fundamentally racist country, with a continuing power struggle between "oppressors" and "oppressed" based on skin color or gender.
A spokesperson for the Space Force told news outlets earlier this month that Lohmeier was relieved over "public comments made by Lt. Col. Lohmeier in a recent podcast."
"Lt. Gen. Whiting has initiated a Command Directed Investigation on whether these comments constituted prohibited partisan political activity," the spokesperson said, without elaborating on whether or not it was because he criticized Marxism or Critical Race Theory.
Inhofe said that he "has many questions" on how the Department of Defense handled Lohmeier's case, noting that the U.S. Air Force Inspector General's office is investigating the matter.
"As we await the results of the Inspector General investigation, I will continue looking into ways we can protect service members of all ideologies to ensure they have the freedom of speech and thought they are afforded as citizens of this country, including through the NDAA," he said, referring to the National Defense Authorization Act.
Meanwhile, some Republican lawmakers have said that the National Defense Authorization Act (NDAA)—which generally receives significant bipartisan support—should not be funded until Critical Race Theory is jettisoned from the military's training.
Sen. Tom Cotton (R-Ark.) suggested that Republicans may have to hold up NDAA spending to ban training that involves Critical Race Theory within the military.


View original Post