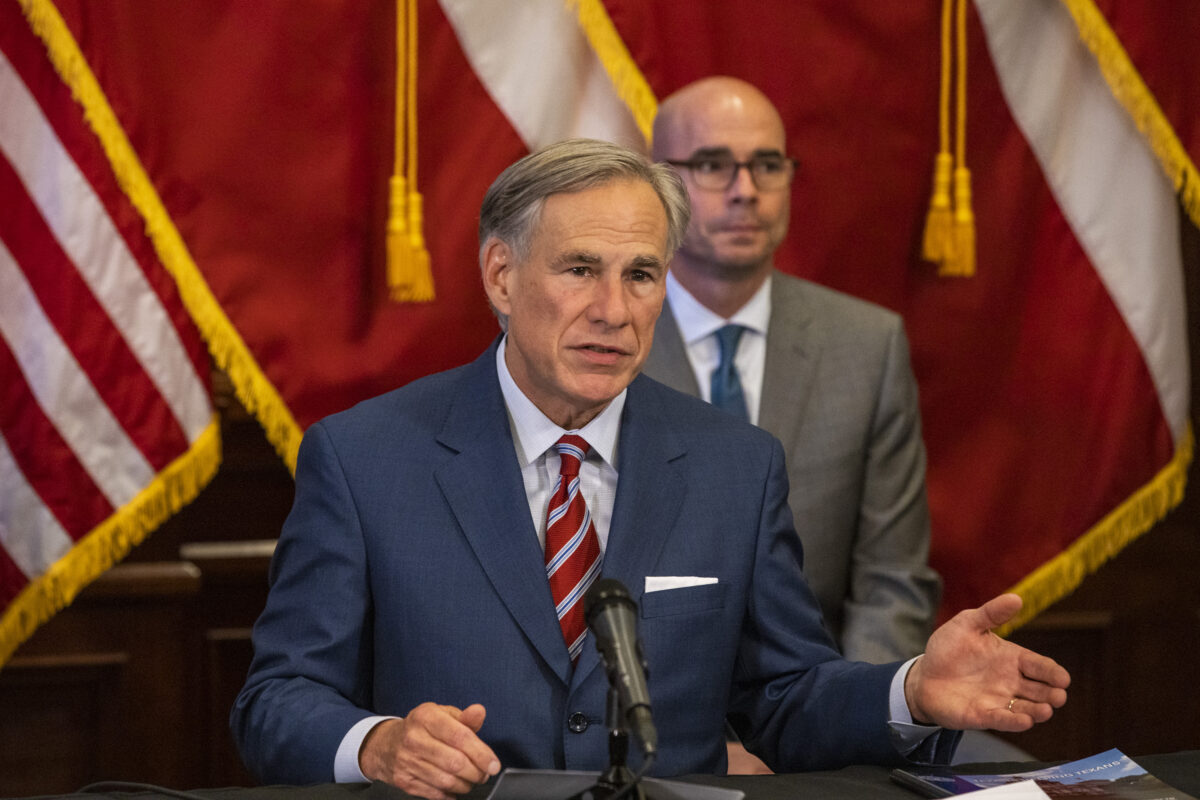 Texas Gov. Greg Abbott on Sunday said that he would support legislation that would prevent cities from issuing directives or voting to reduce funding to police departments—coming in the wake of Black Lives Matter protesters' calls to "defund the police" last year.
In a tweet, the Republican governor highlighted an incident in the state capital, Austin, where there were no police units available for 12 minutes following a shooting that left a victim critically wounded.
"This is what defunding the police looks like," he wrote in reference to the incident. "Austin is incapable of timely responding to a victim shot in the head."
The Austin City Council last summer voted to reallocate up to $150 million from the police department, coming at the same time of demonstrations and riots across the United States and Texas. The "defund the police" slogan, during the Black Lives Matter protests, became a common cry that led to some cities reducing police budgets.
But, according to Abbott, "Texas won't tolerate this" and said the state is "about to pass a law—that I will sign—that will prevent cities from defunding police. Sanity & safety will return."
In April, the Texas House of Representatives passed legislation, House Bill 1900, that would prevent cities from defunding their police departments. The state Senate is still debating the bill.
"As municipalities across this nation are defunding their police departments, are taking money away from the police budgets and putting them elsewhere in their city budgets, this bill makes sure that in the state of Texas, that is not going to be allowed," Republican Texas state Rep. Craig Goldman said, according to The Texas Tribune.
Earlier this year, Austin interim Police Chief Joe Chacon said he's opposed to the bill because it would penalize cities.
"We need to be clear," Chacon said, according to the Austin-American Statesman newspaper. "Just because money was moved out of our budget does not mean that whatever that money was responsible for is no longer being done. It simply resides in another budget now."
The bill stipulates that if a city has more than 250,000 residents and cuts police funding, as determined by the governor, it would allow the state to acquire some of that city's sales taxes and use that money to pay expenses for the Texas Department of Public Safety.
Cities with more than 250,000 residents include El Paso, Dallas, Fort Worth, Austin, Houston, San Antonio, Laredo, Plano, Lubbock, Arlington, and Corpus Christi.
Polls taken in March this year revealed that only 18 percent of Americans support the "defund the police" movement. Meanwhile, a recent New York Times article, citing polls, revealed that support for Black Lives Matter has plummeted in recent months following months of unrest and riots.




View original Post