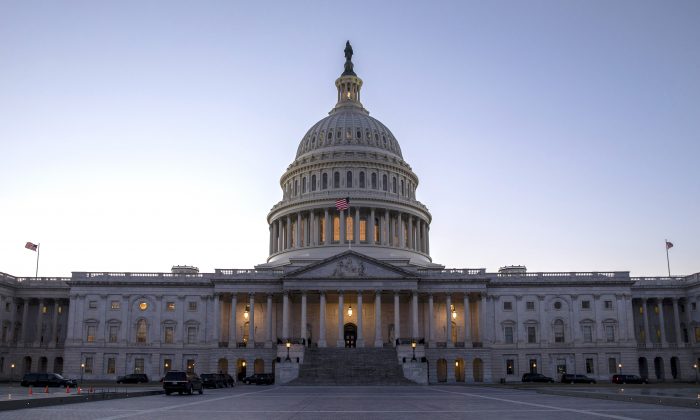 Senate Democrats condemned recent state election reform laws as a "Tsunami of voter suppression" and a declaration of "open season on voting rights" during a tense subcommittee hearing Wednesday on proposals to federalize election law and regulation.
Officially, the hearing of the Constitution Subcommittee of the Senate Judiciary Committee was focused on two recent Supreme Court decisions that Democrats argue gutted two key sections of the 1965 Voting Rights Act (VRA).
The Shelby County, Alabama v. Holder, Attorney General case in 2013 was a 5-4 decision that limited Section Five of the VRA, which empowered unelected Department of Justice (DOJ) officials to pre-clear or deny proposed changes in election laws of specific Southern states to ensure they aren't discriminatory.
In Brnovich, Attorney General of Arizona v. Democratic National Committee, a 6-3 decision announced July 1, the High Court upheld states' authority to ban election practices like "ballot harvesting" where political activists go to voters' residences to pick up their ballots and take them to counting stations. Democrats argue the decision emasculated the VRA's Section 2 that gives private citizens standing to bring voting rights litigation.
But virtually all of the discussion centered on allegations of recent voter suppression and the adequacy of the Democrats' two main voting rights legislative proposals, versus Republican claims that recent election reforms in Arizona, Georgia and other states enjoyed widespread public support regardless of ethnicity.
The (S1/HR1) "For the People Act" effectively federalizes elections that are now state responsibilities, while the (HR4) "John Lewis Voting Rights Advancement Act" is viewed by congressional Democrats as a substitute for S1/HR1 if the latter is rejected by Congress.
Sen. Richard Blumenthal (D-Conn.), the subcommittee's chairman, condemned Republican opposition to bringing to the Senate floor the Democrats' proposed S1/HR1 "For the People Act."
If the GOP opposition continues, Blumenthal warned, Senate Democrats "will be forced to consider all of our options, including eliminating the filibuster." He was referring to changing Senate rules from requiring 60 votes to end a filibuster to a simple majority.
Sen. Patrick Leahy (D-Vt.), a former chairman of the judiciary panel, told the hearing that the Supreme Court's Brnovich decision amounted to a "declaration of open season on voting rights."
The subcommittee Democrats were echoing comments Tuesday by President Joe Biden who said during a speech at the National Constitution Center in Philadelphia that, "there is an unfolding assault taking place in America today, an attempt to suppress and subvert the right to vote in fair and free elections, an assault on democracy, an assault on liberty, an assault on who we are, who we are as Americans."
The yawning gulf between Democrats and Republicans on voting rights issues was evident in an exchange between Sen. John Cornyn (R-Texas) and a hearing witness, Judicial Watch Senior Attorney T. Russell Nobile.
Cornyn, who was Texas Attorney General prior to first being elected to the Senate in 2002, pointed out that "in Texas, we have 17 days of early, in-person voting. In Connecticut, [Blumenthal's state], they have zero days of early, in-person voting."
Cornyn asked Nobile if those facts show Connecticut officials are suppressing minority voters.
In response, Nobile said that if Congress updated the VRA's formula for determining which states should be subject to pre-clearance by DOJ, "New England would be Patient Zero, Massachusetts, Connecticut, all of them. The data shows racial disparities in voter registration is worse there than almost anywhere else in the country."
The Cornyn-Nobile exchange contrasted sharply with testimony from Janai Nelson, the Associate Director-Counsel of the NAACP Legal Defense and Education Fund, who claimed voter suppression "metastasized alarmingly" after the Shelby County decision.
In another telling exchange, Blumenthal asked Jose Garza, a San Antonio-based lawyer who represents minority voters challenging what they view as discriminatory Texas election regulations, about reforms now being considered by the Lone Star State's legislature.
"To begin with, the stated purpose of enacting these provisions is to avoid voter fraud, but there's been no evidence associated with that," Garza responded. He added that historically "voting has been considered a privilege, not a right, in Texas."
But another witness, former Virginia Attorney General Ken Cuccinelli, pointed out that there have been 500 voter fraud prosecutions in Texas in connection with the 2020 and 2018 elections.
Sen. Ted Cruz (R-Texas), the Ranking Minority Member of the panel, asked Cuccinelli how there could be so many voter fraud cases when "Democrats tell us it never occurs under any circumstance anywhere in the universe."
Cuccinelli responded that "well of course it has happened and it goes both ways. In 2019, we re-ran a congressional race because of Republican operatives committing fraud in that race in North Carolina." He was referring to the Ninth Congressional District race that was re-run in September 2019.
During his prepared testimony, Cuccinelli said public discussion of election reforms is greatly hindered by the "hyperbolic and libelous rhetoric that each and every rule and procedure is not only an onerous restriction but is allegedly knee-jerkingly racist, because in America today it is easier to vote than ever before."
Congressional correspondent Mark Tapscott may be contacted at [email protected]


View original Post