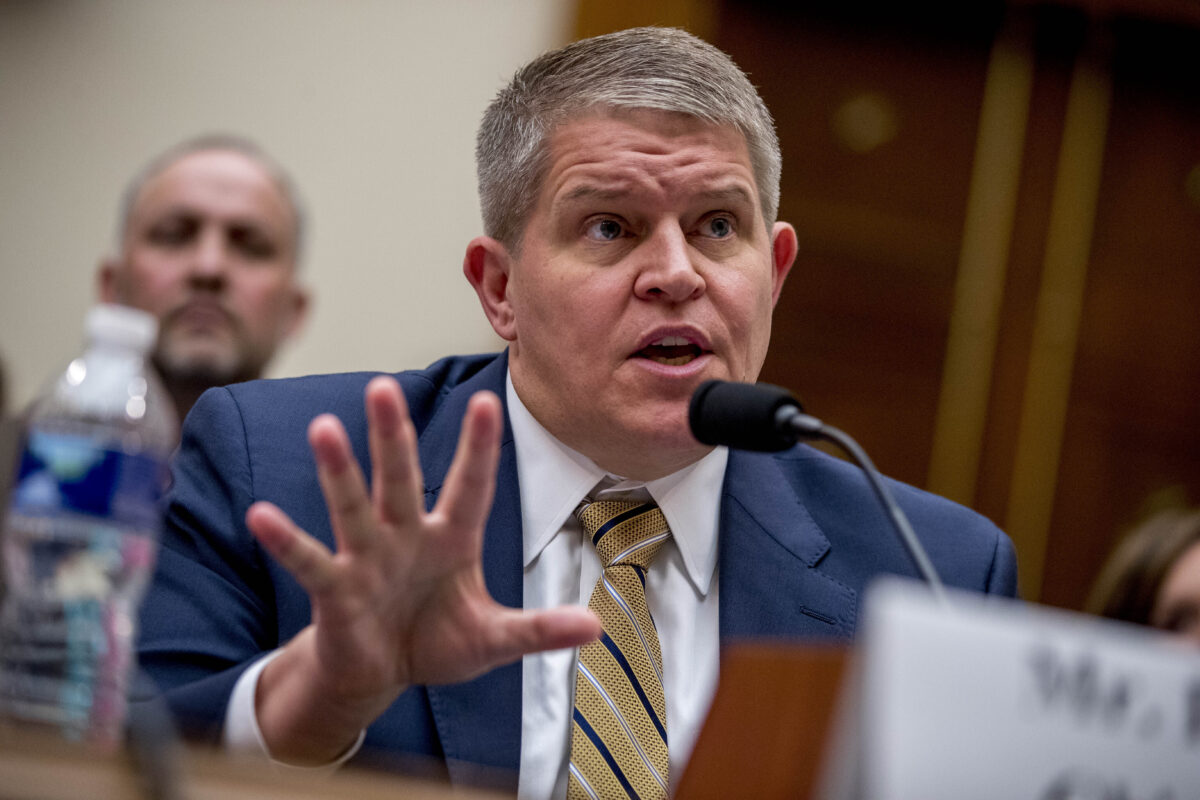 Some House Republicans are aiming for a resolution to impeach President Joe Biden's nominee to run the Bureau of Alcohol, Tobacco and Firearms (ATF), even though he hasn't been confirmed by the Senate.
For weeks, lawmakers have been deliberating on whether to nominate David Chipman, a former ATF agent who now works alongside gun-control groups, and it's not clear when Senate Majority Leader Chuck Schumer (D-N.Y.) will bring his nomination up for a vote.
Several Democrat senators, including Sens. Joe Manchin (D-W.Va.), Krysten Sinema (D-Ariz.), and others haven't publicly endorsed Chipman.
Rep. Matt Rosendale (R-Mont.) and other Republicans proposed two articles of impeachment, including that Chipman has failed to "support and defend" the Second Amendment of the Constitution and alleged he lied to Congress when he denied claims that he lost his ATF-issued service weapon when he was an agent.
In a statement, Rosendale characterized Chipman as an individual who, if confirmed, would push for far greater gun-control measures.
"The confirmation of David Chipman to the ATF would be a direct threat to the second amendment rights of Americans and the rule of law," Rosendale said. "Not only has Chipman previously given false testimony to Congress, but his statements on gun-control are evidence that his confirmation would be a failure to support and defend our constitutional rights. If appointed, both are impeachable offenses and worthy of Congress to consider his removal."
So far, 11 other Republicans have co-sponsored Rosendale's bill. Should Chipman be confirmed, it's unlikely that he will be impeached as it would require some Democrat House members to defect and join Republicans—while the resolution will likely not be considered while Democrats hold the majority.
The gun-control advocacy and some of his public comments about gun owners will likely make it difficult for Democrats to get enough support from all 50 members of their caucus. A top Democrat, Sen. Dick Durbin (D-Ill.), admitted that Chipman has "a lot of issues" before he's nominated.
Sen. Jon Tester (D-Mont.), a moderate Democrat, said he's " still analyzing" Chipman's nomination and isn't "feeling the urgency because I don't know when he's scheduled to" vote, reported Politico. And Manchin told Politico that Chipman's experience "seemed to be exemplary" but expressed concerns about his other work.
Sen. Susan Collins (R-Maine), considered a centrist, recently issued a statement opposing Chipman's nomination, describing him as "unusually divisive" and has made public statements that "demean law-abiding gun owners." Senate Minority Leader Mitch McConnell (R-Ky.) and other Republicans, meanwhile, have lined up to block his confirmation, with McConnell calling him an "anti-gun extremist."
The White House has issued public statements backing Chipman, with a spokesperson recently saying he has significant experience in law enforcement and deserves the chance to be head of the ATF. Currently, Chipman is a senior policy advisor at Giffords, a gun-control advocacy group.
Chipman, according to spokesman Michael Gwin, was "promoted into positions of trust and management at the ATF, participating in complex investigations, and putting himself in harm's way as a member of the Bureau's SWAT team," reported Fox News in June.
The lawmakers who signed onto Rosendale's resolution include Reps. Bob Good (R-Va.), Jeff Duncan (R-S.C.), Marjorie Taylor Greene (R-Ga.), Ralph Norman (R-S.C.), Jody Hice (R-Ga.), Diana Harshbarger (R-Tenn.), Scott Perry (R-Pa.), Alex Mooney (R-W.Va.), Andy Harris (R-Md.), Paul Gosar (R-Ariz.), and Andrew Clyde (R-Ga).
The Epoch Times has contacted Schumer's office for comment.


View original Post