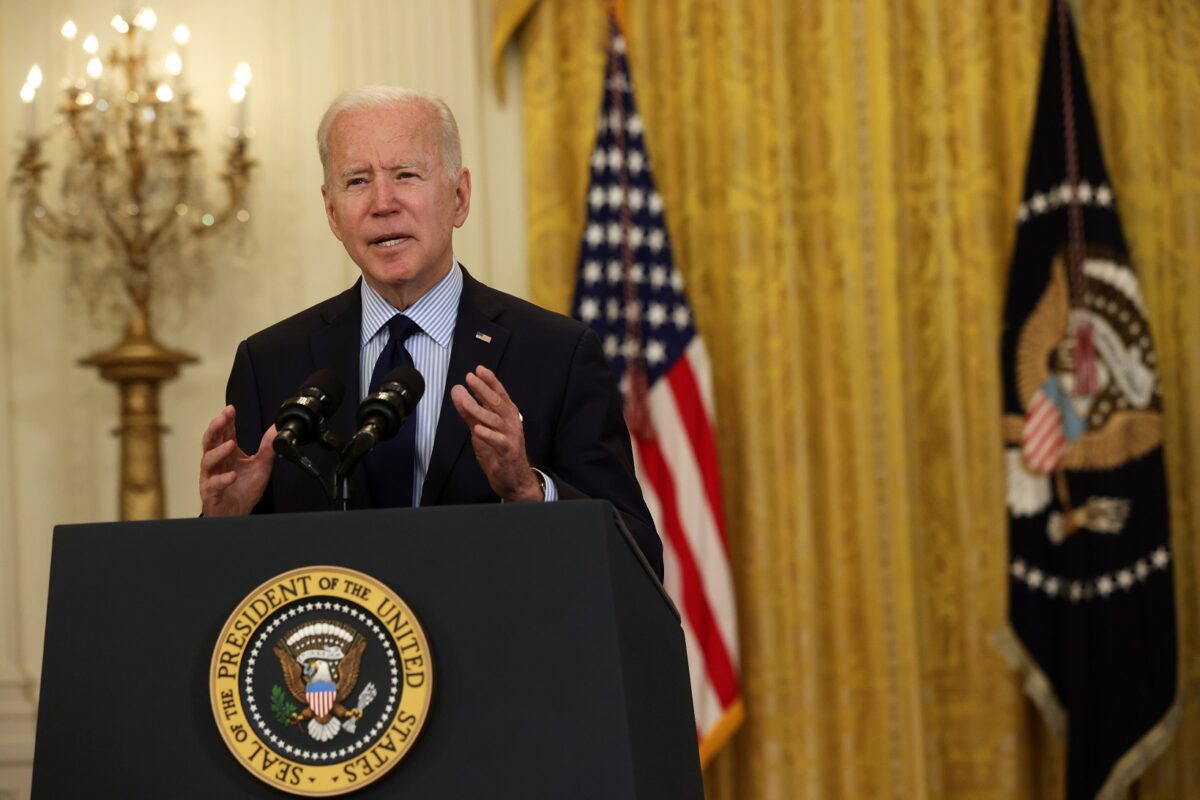 Nineteen GOP-led states called on President Joe Biden to reinstate the Keystone XL pipeline following a ransomware attack that shut down the Colonial Pipeline for several days, triggering gas shortages and a spike in prices.
The coalition of states, led by Montana Attorney General Austin Knudsen, said the administration needs to reinstate construction of the Keystone pipeline—which would stretch from the Gulf Coast to Canada—after Biden issued an executive order halting the project early on in his presidency. The order drew considerable condemnation from Republicans and industry groups, who argued that tens of thousands of jobs would be lost.
"A temporary shutdown of one pipeline's full-capacity operations shouldn't bring half the country to the brink," the states wrote to Biden on Monday, according to a letter (pdf). "We need more safe and clean energy sources. And that includes the Keystone XL Pipeline."
Biden argued that the Keystone Pipeline construction should be halted because the United States would now pursue a "clean energy economy." But amid the Colonial Pipeline shutdown, Biden's Energy Secretary Jennifer Granholm told reporters at one point that pipelines are "the best way to go" when transporting fuel.
The letter penned by the 19 states noted that the White House took several significant emergency steps last week to secure the supply chain and try to curb fuel shortages following the Colonial Pipeline shutdown. The administration issued an order that would allow tanker trucks to carry overweight loads of gasoline in several states and also suspended some environmental regulations relating to fuel transportation, the GOP attorneys general said.
"Maybe one day, down the road, we will obtain the Utopian energy profile you desire," the letter said. "But in the meantime, Americans want practical, effective leadership—not visionary deprivations."
They also argued that with the Colonial shutdown, "most Americans" would have wished the administration would have kept the Keystone pipeline.
The Colonial Pipeline resumed operations last week after the ransomware attack, which the FBI said was caused by a hacker group known as "DarkSide," which is reportedly based in Russia. Biden later told reporters that he would communicate with Russian President Vladimir Putin about the group, although he said that intelligence officials don't believe the ransomware hack was connected to the Kremlin.
As of Tuesday, the average price for a gallon of regular gas is approximately $3.04 nationwide, according to the American Automobile Association (AAA). One year ago on May 18, 2020, the average price was $1.879.
The Keystone XL Pipeline's construction has been fraught with difficulties since it was commissioned in 2010, as the project has become the focus of environmentalist groups' animus.


View original Post