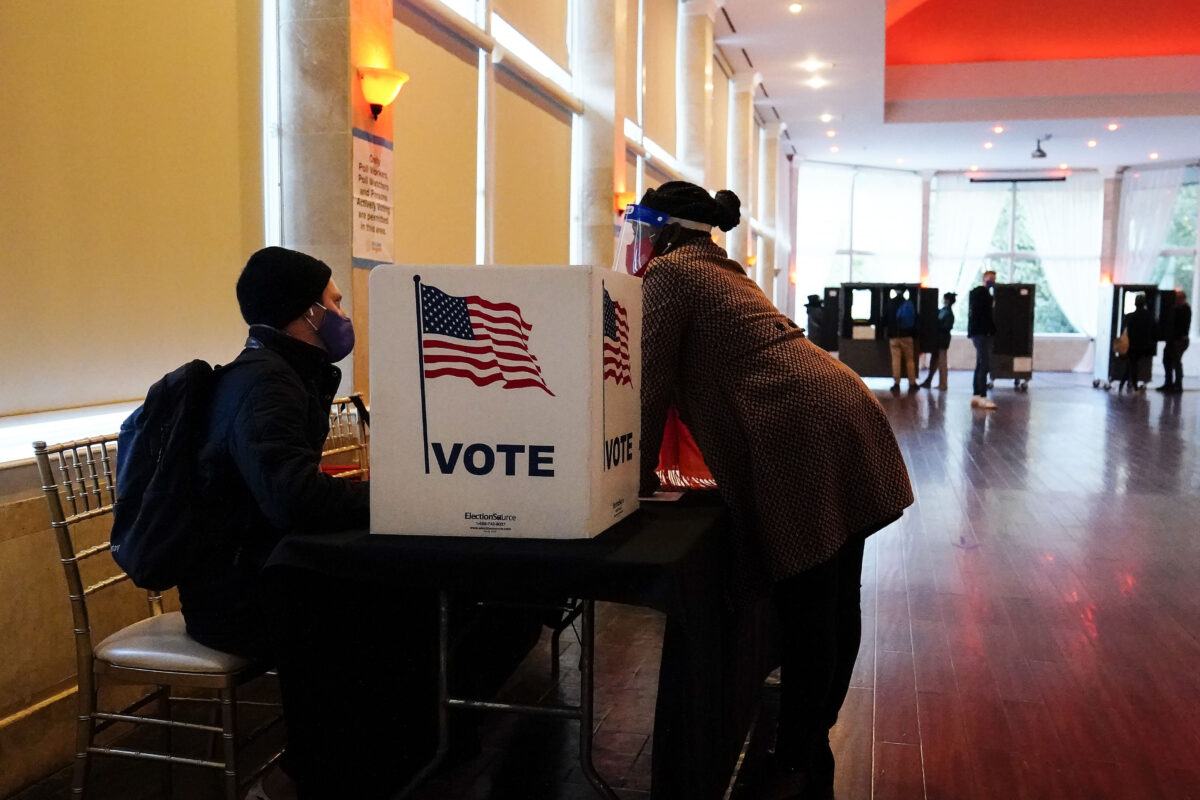 The Shawnee County Sheriff's Office in Kansas confirmed last week it is still investigating claims of voter fraud from the Nov. 3 election.
A spokesperson for the sheriff's office, Abigail Christian, told the Topeka Capital-Journal that 12 cases are being investigated, but she could not release more details about the investigation. The statement came after state Rep. Vic Miller, a Democrat, had asked Shawnee County District Attorney Mike Kagay to look into the 12 cases of alleged election fraud, noting that the alleged fraud cases involved addresses that were listed at two UPS stores and two businesses in Topeka.
Andrew Howell, the Shawnee County election commissioner, said that he doesn't recall anyone contacting him or the election office about election fraud but said his office is trying to "clean up the list." He added that using a UPS address or business address does not necessarily mean there was election fraud involved, according to the Journal.
"There are situations that do occur where people are allowed to use unusual addresses," Howell said. "It doesn't on its face alone prove anything."
The Epoch Times has contacted the sheriff's office for comment.
In Pennsylvania recently, several people have been charged or will be charged with election fraud stemming from the Nov. 3 election, including two women in Bucks County who both allegedly cast ballots on behalf of their deceased mothers.
District Attorney Matthew Weintraub told news outlets that the incidents are isolated and said there was no evidence of "widespread or systematic election fraud here in Bucks County."
Danielle Elaine Dooner, 56, of Buckingham, and Melissa Ann Fisher, 51, of Quakertown, will be charged in relation to the alleged mail-in ballot violations. They each face violations of provisions relating to absentee and mail-in ballots, a misdemeanor of the third degree, officials said.
And two weeks ago, a Delaware County man identified as 70-year-old Bruce Bartman pleaded guilty and admitted he "made a stupid mistake" when he cast a ballot for his deceased mother.
After the November election, a multitude of GOP state legislatures have passed laws to strengthen the rules around absentee and mail-in ballots. That includes Florida's legislature, which last week passed a bill that provides more regulations for ballot drop boxes as well as more identification requirements for voters who request a mail-in ballot, while Texas's state House passed a similar bill on May 7.
Immediately after the Florida bill was signed into law, Democrat lawyers and other groups filed several lawsuits challenging the measure as unconstitutional.


View original Post